Information Technologies and System Evaluation: Uses and Practices in the Online Context
Keywords:
Website design; E-tourism; Design evaluation; Uses and practices; online; information design
Abstract
The purpose of this paper is to have a clear understanding of user's management strategies' in an online information technologies environment. The contribution focuses on a recent exploratory study carried out with notarial e-tourism platforms for a better understanding of design evaluation and uses. The conceptual framework links various dimensions with a strategic perspective in the information science and technologies domains: online information design evaluation. We develop a conceptual model emerging from the review of existing literature. We identify that homepage construction, users' satisfaction, Web 2.0 technologies and social media initiatives are key factors affecting positively the website design effectiveness. We stress that even though the different dimensions can be considered separately, as they have an interdependent and a positive correlation with platform performance. Research finding are used as a basis for developing prescriptive guidelines to better direct the activities for designing and developing e-commerce online platforms.
References
• Agarwal, R. and Karahanna, E. (2000), "Time flies when you're having fun: cognitive absorption and beliefs about information technology usage", MIS Quarterly, Vol. 24 No. 4, pp. 665-94.
• Ahn, T., Ryu, S. and Han, I. (2007), "The impact of web quality and playfulness on user acceptance of online retailing", Information & Management, Vol. 44 No. 3, pp. 263-75.
• Andriole J.S., (2010), "Business Impact of Web 2.0 Technologies". Communications of the ACM. December 2010, Vol. 53, No. 12, pp. 67-79. doi :10.1145/1859204.1859225.
• Bai, B., Law, R. and Wen, I. (2008) "The impact of website quality on customer satisfaction and purchase intentions: Evidence from Chinese online visitors". International Journal of Hospitality Management (27:3), 2008, 3 pp. 91–402.
• Benlian A., Tita R. and Hess T. (2012), "Differential Effects of Provider Recommendations and Consumer Reviews in E‑Commerce Transactions: An Experimental Study". Journal of Management Information Systems / summer 2012, Vol. 29, No. 1, pp. 237–272. ISSN 0742-1222 (print)/ISSN 1557-928X (online). DOI: 10.2753/MIS0742-1222290107
• Bigné-Alcaniz, E., Ruiz-Mafé, C., Aldas-Manzano, J. and Sanz-Blas, S. (2008), "Influence of online shopping information dependency and innovativeness on internet shopping adoption", Online Information Review, Vol. 32 No. 5, pp. 648-67.
• Bonsón E., Flores F., (2011),"Social media and corporate dialogue: the response of global financial institutions", Online Information Review, Vol. 35 Iss: 1 pp. 34 – 49.
• Bruce E. Perrott, (2006), "Efficiency and effectiveness considerations in determining strategic and operational paths to ebusiness enablement". Database Marketing & Customer Strategy Management Vol. 13, 4, pp. 300–308.
• Cao M., Zhang, Q. and Seydel, J. (2005), "B2C e-commerce Web Site Quality: an Empirical Examination". Industrial Management & Data Systems 105(5): pp. 645–661. doi: 10.1108/17566690911004203.
• Chechen L., Pui-Lai T., Chuang-Chun L., Pu-Yuan K. and Shu-Hui C. (2011),"Factors influencing the intended use of web portals", Online Information Review, Vol. 35 Iss: 2 pp. 237 -254.
• Cheng, M. S., Chan, X. Y., and Lin, J. H. (2004), "A Study of the Firms' Internal Factors That Influence the Performance of the Business Use of E-commerce". Chung Hua Journal of Management, 5(1), pp. 1-22.
• Chiang P., Huang C.Y. and Huang C-W. (2009), "Characterizing Web Users' Degree of Web 2.0-ness". Journal of the American Society for Information Science and Technology. 60(7): pp. 1349–1357.
• Davidavičienė V. and Tolvaišas J. (2011), "Measuring quality of e-commerce web sites: case of Lithuania". Economics and Management: 2011. 16, pp. 723-729. ISSN 1822-6515.
• Dholakia, R. R. and Zhao, M. (2009), "Retail Web Site Interactivity. How does it Influence Customer Satisfaction and Behavioral Intentions?" International Journal of Retail & Distribution Management 37(10): pp. 821–838. 10.1108/09590550910988011.
• Dong-Jenn Y., Dai-Hsu C. and Jiali L., (2012), "A Study of Key Success Factors when Applying E-commerce to the Travel Industry". International Journal of Business and Social Science, Vol. 3 No. 8, pp. 114-119. Special Issue - April 2012. The Special Issue on Humanities and Social Science. Centre for Promoting Ideas, USA.
• Fairthurst P. (2001), "E-Crm", Journal of Database Marketing. Vol. 8, 2, pp. 137-142.
• Farkhondeh E.P., (2012), "From Electronic commerce to ubiquitous commerce". Interdisciplinary journal of contemporary research in business. April 2012. Vol. 3, N 12, pp 921-934.
• FEVAD , (2015), "Main statistics 2015". Fédération e-commerce et vente à distance/ e-Commerce and distance selling federation.
• Gefen, D. (2003), "TAM or just plain habit? A look at experienced online shoppers", Journal of End User Computing, Vol. 15 No. 3, pp. 1-13.
• Hartman, A. and Sifonis, J. (2000) "Net Ready", McGraw Hill, New York, NY.
• Hughes S. and Beukes C. (2012), "Growth and Implications of Social E-Commerce and Group Buying Daily Deal Sites: The Case of Groupon and Livingsocial". International Business & Economics Research Journal – August 2012 Volume 11, Number 8, pp. 921-934.
• Hung W.T., Tsang S.S. and Liu H.Y., (2010), "Website characteristics and the impact if user perceived value on user behavior in Web 2.0". Academy of Information and Management Sciences Journal, Volume 13, Number 1, pp. 1-18.
• Janda, S., Trocchia, P. J., Gwinner, K. P. (2002), "Consumer Perceptions of Internet Retail Service Quality". International Journal of Service Industry Management 13(5): pp. 412–431. Doi: 10.1108/09564230210447913.
• Jiang, Y., Raghupathi, V. and Raghupathi, W. (2009), "Content and design of corporate governance web sites", Information Systems Management, Vol. 26 No. 1, pp. 13-27.
• Jun S., Zhaojun Y., Ying W., Yali Z. (2015), "Rethinking e-commerce service quality: does website quality still suffice?" Journal of Computer Information Systems Volume 55 Issue 4, pp. 62-72.
• Kuan H-H, Bock G-W and Vathanophas V. (2008), "Comparing the effects of website quality on customer initial purchase and continued purchase at e-commerce websites". Behaviour & Information Technology, Vol. 27, No. 1, January – February 2008, pp. 3 – 16
• Liao, C., Palvia, P. and Lin, H. (2006), "The roles of habit and website quality in e-commerce", International Journal of Information Management, Vol. 26 No. 6, pp. 469-83.
• Lin, H. H., and Tseng, W. T. (2008), "Constructing a Model of Online Tourism Systems Success from Customer Perspective: An Integration of the Rational-based Theory and the Flow Theory". Journal of e-Business, 10(3): pp. 689-714.
• Mamaghani, F. (2011), "An investigation of factors influencing e-commerce". Journal of Academy of Business and Economics. Volume 11, Number 4, pp. 160-165.
• O'Reilly, T. (2005), "What is Web 2.0: design patterns and business models for the next generation of software", available at: http://oreilly.com/web2/archive/what-is-web-20.html (accessed 4 March 2013).
• Parboteeah D. V., Valacich J.S. and Wells J.D. (2009), "The Influence of Website Characteristics on a Consumer's Urge to Buy Impulsively". Information Systems Research. Vol. 20, No. 1, March 2009, pp. 60–78.
• Parker C. M., Bellucci E., Torlina L., Zutshi A. and Fraunholz B. (2014), "Towards a Method for Measuring the Quality of Environmental Improvement Communications on SME Websites". Knowledge and Process Management. Volume 21 Number 3 pp 187–197 (2014).
• Rahimneya F., Nabizadeh T., Gharib Tarzeh Z., Amini. M. (2012), "Designing a conceptual model of innovation culture and mechanism's effects on developing e-commerce". Interdisciplinary Journal of Contemporary Research In business. February 2012, Vol 3, N° 10, pp. 1033-1043.
• Rockart, J. F. (1981), "A Primer on Critical Success Factors". In Bullen, C.V., & Rockart, J.F. (Eds.), The Rise of Managerial Computing: The Best of the Center for Information Systems Research. Homewood, IL: Dow Jones-Irwin.
• Santos, J. (2003), "E-service Quality: a Model of Virtual Service Quality Dimensions". Managing Service Quality Journal, 13(3), pp. 233–246. Doi: 10.1128/09604520310476490.
• Tung F.C. (2012), "Exploring factors influencing Taiwan's tourism website customer satisfaction and intention". The International Journal of Organizational Innovation Vol 5 Num 1, pp. 217-223.
• Ussahawanitchakit P. (2012), "IT competency and competitive advantage: evidence from Thai e-commerce business". International Journal of Business Research. Volume 12, Number 1, pp. 10-18.
• Xiao B. and Benbasat I. (2011), "Product-related deception in e-commerce: a theoretical perspective". MIS Quarterly Vol. 35 No. 1 pp. 169-195. March 2011.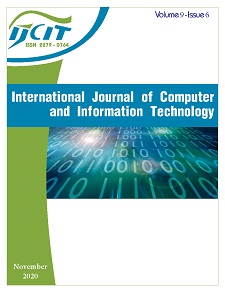 Downloads
How to Cite
Boulesnane, S., Bouzidi, L., & Boukrami , E. L. (2020). Information Technologies and System Evaluation: Uses and Practices in the Online Context. International Journal of Computer and Information Technology(2279-0764), 9(6). https://doi.org/10.24203/ijcit.v9i6.55
License
Copyright (c) 2020 Sabrina Boulesnane, Laïd Bouzidi, Elias L. Boukrami
This work is licensed under a Creative Commons Attribution-NonCommercial 4.0 International License.
The articles published in International Journal of Computer and Information Technology (IJCIT) is licensed under a Creative Commons Attribution-NonCommercial 4.0 International License.